Read?why this unit gives so much value for your buck and how it can help you with your litter maintenance.
The Omega Paw is a manually operated cat box which eliminates the standard requirement of hand scooping and cleaning your cat?s box manually, in essence, the unit works very similarly to the automatic litter box, just like the Litter Robot?2 and Litter Robot 3?which follows similar practical attributes but in a completely automated fashion.
Can the Omega Paw handle?smelly cat odor?
The Omega Paw handles?odor incredibly well, there are no fancy filters needed for this unit. Instead the hooded design of the Omega Paw traps the odor inside of its hooded enclosure preventing?smelly?cat odor being emitted?into the surrounding areas of your home or apartment.
After the cleaning process has been completed?the waste is trapped in an?air tight waste receptacle. The waste receptacle is designed in such a way that the waste container slides out in a draw like fashion, enabling easy access for the disposal of your cats waste.
It?s so easy to clean and operate the Omega Paw, all you have to do is roll the entire litter box on its side and that?s it, no manually scooping or getting your hands dirty, the smart design?does the rest in making the disposal process as painless as possible.
Features
Self cleaning by manually rolling the unit back and forth in one easy motion
Waste is collected in the waste receptacle for painless and easy disposal.
No electricity or filters needed.
Traps?bad cat?waste?odors and prevents leakage.
Ideal for small and large cats.
Ideal for cat owners with multiple cats.
How does the Omega Paw cat litter box works?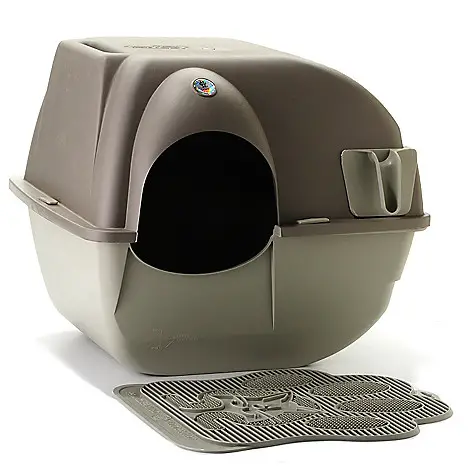 This unit has?an easy 3 step roll and clean method.
Once your cat has done their business wait until your cat has cleared the area from needing to use the litter pan again.
Simply roll the cat box?until the unit is completely upside down and then roll it back to its normal position.
The used litter is then trapped into the filter which is then transferred into the receptacle draw.
Simply pull out the waste draw and empty the waste receptacle and your job is done, its that easy.
Pro and Cons summery?
Pros
Easy to use.
Fit for all types of cats large and small.
Traps?bad odors.
Cleans all cat waste without ever using the scooper.
Safe for all cats to use.
Fit for cats who go to the toilet regularly
Affordable and effective solution
Cons
Takes up a fair amount of floor space.