Are you worried about your cat?s health with regard to the water they drink?
Why?
The Drinkwell indoor pet water fountain helps provide fresh water to your pets by constantly pumping it through carbon filters and aerating it with oxygen.
The carbon filters prevent hair and other particles from being reintroduced to your pet?s drinking water. The filters are organic and made from coconut shells, similar to the ones used in fish tanks which filter the water for potentially harmful bacteria.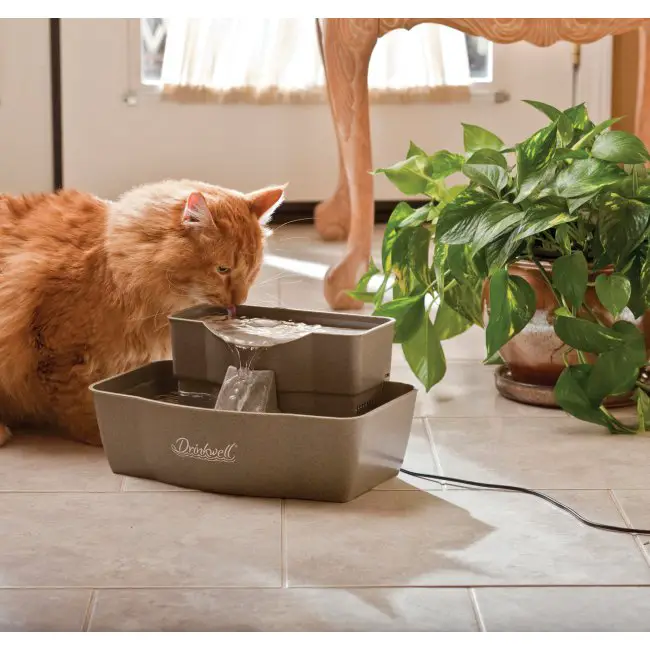 Drinkwell Multi-Tier Pet Fountain has the following features:
2-tier fountain to cater to cats to drink at different heights
Replaceable carbon filters remove odors and unwanted tastes
Provides streaming water that absorbs oxygen for maximum aeration
It has a submersible pump designed for silent operation
The 12V pump has an inline plug to protect it from getting wet
How easy it is to use
This?pet water dispenser?has 2 levels where cats and small to medium-sized dogs can drink. The design provides easy access to water for old pets and those suffering from arthritis. There?s also a ramp that comes with the unit that can be found between the 1st and 2nd levels of the pet fountain which dampens the sound made by the waterfall motion ? really helpful if you dislike the sound of running water.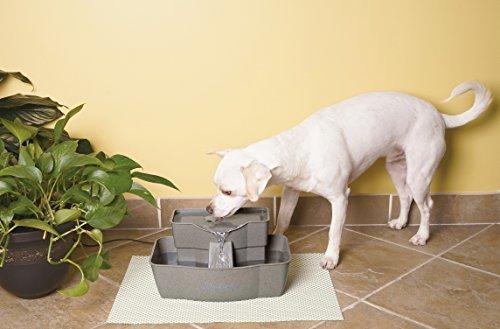 How It Works
The Drinkwell pet fountain setups may vary in design but they?re all made up of three main elements: the bowl or water basin, the pumping motor, and the water reservoir where water is pumped through.
The pet fountain continuously pumps the water you pour in the basin into the water reservoir, aerating it with oxygen in the process. The water also goes through carbon filters to strain dirt, filters growth of bacteria and other particles that may have been caught in the air to ensure your pets are drinking healthy water.
Instructions to replace the filter, disassemble it for cleaning, clean the pump, reassemble the fountain, and the general safety precautions are all detailed in the manual. If these aren?t enough, seek help from video tutorials available online.
Drinkwell Multi-Tier Maintenance
Cleaning the pet fountain every month, removing any saliva that may have stuck to the plastic. To clean the fountain, all you need to do is unplug it first before draining the water. You can brush the plastic container manually with a sponge or put it in your dishwasher.
The motor can also be disassembled and cleaned to remove trapped dirt, hair, and gunk. Use dishwashing soap and use the brush found in the Fountain Cleaning Kit which comes with the unit.
Pros and Cons of the Drinkwell pet fountain
Pros
No need to replace the water every day. The flowing motion helps prevent bacteria growth and the carbon filters keep the water safe to drink
The organic carbon filters are easily replaceable
The plastic is BPA-free and dishwasher safe. You can use ordinary dishwashing soap, together with a small brush, to clean both the plastic container and the pumping motor
The 2-tier design is ideal for both cats and small dogs
The pet water fountain can hold as much as 100oz of fresh water
Cons
General cleaning may be a bit of a hassle because you have to disassemble and reassemble everything
Pet fountain is not suitable for big dogs
Frequent cleaning of clogged filters may occur, especially if you have multiple pets using it
The waterfall sound is too loud in some cases
Capacity is too small to hold enough water for more than a day for homes with multiple pets